With the start of the new school year, iron-on labels on your child's clothing are the best way to avoid situations where your child loses their belongings, accidentally takes them home, or touches someone else's belongings. But this year is different. Now more than ever, iron-on labels are one of the best precautions against pandemics so others don't accidentally handle your child's belongings, especially since school uniforms are designed to make everyone look the same. Iron-on labels

The iron-on labels

do exactly what their name promises: Simply position your child's name tag in the desired place and iron it directly over it. However, not all iron tables are created equal and it is important to use iron tables that are built to last and get the job done right.

Seals of quality are important in times of pandemic
We recommend My Nametags because quality is important. Once your child's name tags have been ironed on (tags stick in seconds!), the name tags are 100% safe in the washing machine, stay put in the dryer, and are resistant to any wear and tear. Your child can pull through his clothes!

In addition to iron-on labels, My Nametags has a variety of name stickers for your child to identify stationery, lunch boxes, and other items. (You can read about it below!) Crucially, the labels are made with a child-safe antibacterial coating, making them safe for use on face masks, lunch boxes, food wrap, water bottles, pencil cases, stationery, and other items. My Nametags labels and stickers help your child's teachers easily identify items belonging to your child without confusion or additional item handling.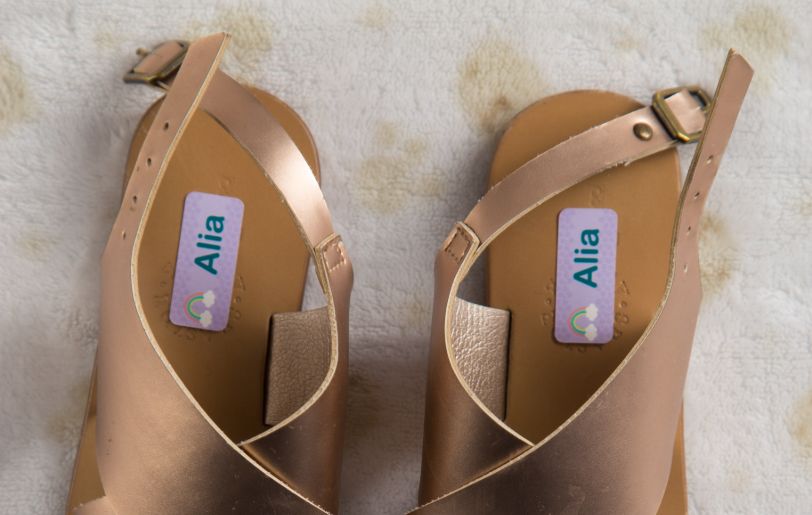 Name Tag Stickers

My Nametags holds a Queen's Award for International Trade, which means mothers in over 130 countries, including this region, are guaranteed the highest quality.

Let your child personalize their badge! You can have fun with your child by customizing the labels together on the My Nametags site, where you will find thousands of design combinations adapting to your child's tastes in terms of colors, animals, symbols, hobbies, etc.

What moms love to do most is ask their children to choose the colors they want for their name tags to engage them with the idea of ​​taking care of their belongings and understanding that only they can use them. Getting your child to only touch and use their things is very important in this climate of virus spread awareness.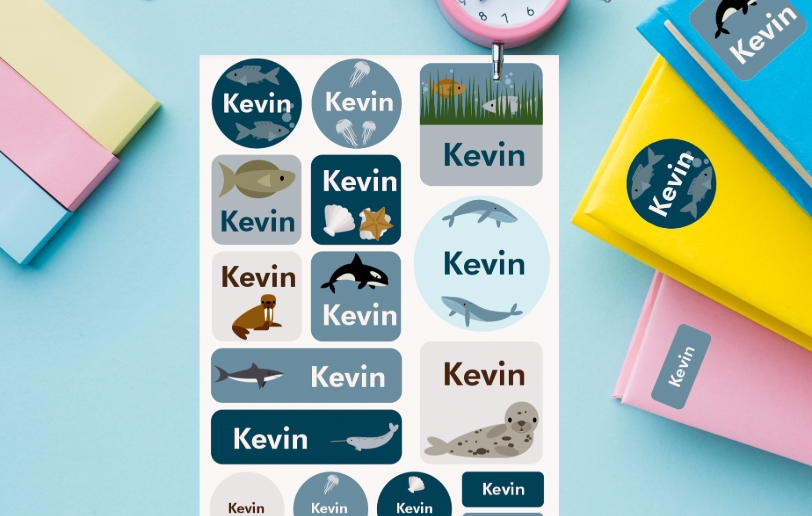 Available in AZ Alphabet and Arabic Script
Sustainably produced My Nametags children's name tags and stickers are already popular in Saudi Arabia and Bahrain and are available in Arabic Script and AZ Alphabet format in other languages.

Get creative with stickers
Who says stickers just have to have your child's name on them?! You have the option to design your sticker with up to 2 lines of text (maximum 15 characters per line).

The Design Your Label option includes a selection of designs such as stars, unicorns, rainbows, animals… and my personal favorite, a shark!
Choose your background from a variety of colors and textures that will make the sticker unique and personal to each child.
Finally, choose your text color and text style from options like handwriting, typewriter, simple fonts, script, and even kid-friendly handwriting! Moms use them to create their stickers that say things like:
Well Done!
You are a star!
The Best Boy Ever!
I love you!
your child's name and phone number to put on all their stuff. Using Stickers to Keep Schoolwork Organized
Some parents like to have different colored stickers for each child, or with different colored stickers to help them stay organized. For example, school supplies and paperwork may have a red "math" label; a blue sticker for English; a green sticker for a story, etc.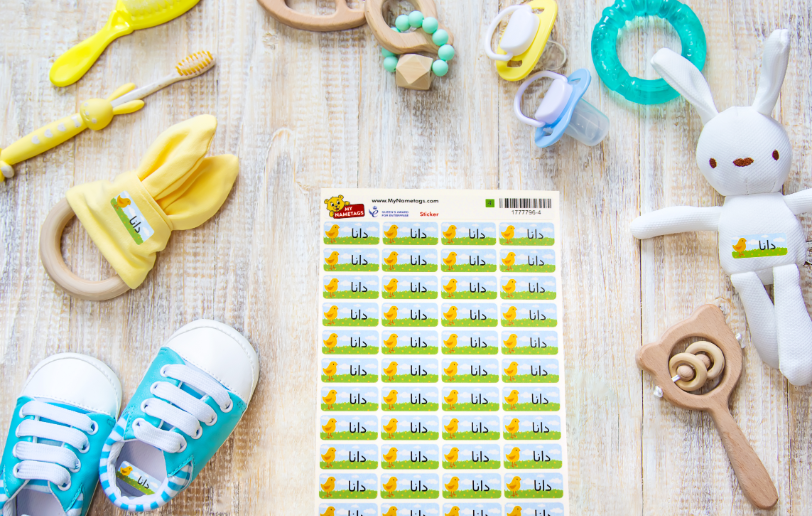 Maxi sticker
These maxi stickers are available in different shapes and sizes and are larger than name stickers. They are therefore ideal for labeling your child's lunch boxes, water bottles, books, and school bags. Don't forget that children are also proud to have their names on the things they wear, especially since they can personalize the maxi stickers with the designs they choose from a selection of themes. Children's name tags and stickers

And although children worry about their belongings (toys, stationery, lunch boxes, etc.), they can still forget them. Labeling their belongings with name stickers will help your child avoid losing items at school or with friends.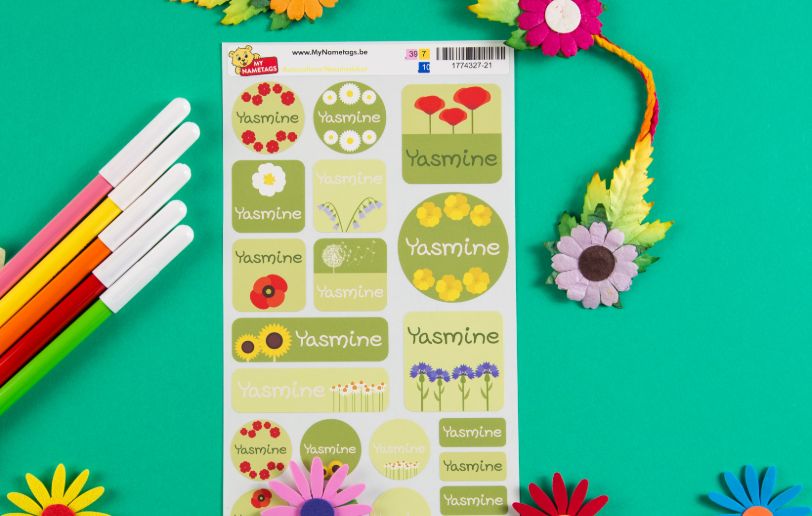 Wall Decals
Now that kids are spending more time in their rooms than ever, wall decals are a great way to personalize (and even refresh!) their rooms. And don't worry mom, these stickers were designed for you too, as they are wall stickers made of a flexible material that can be removed in seconds without leaving any marks or damaging the wall surface!

On the My Nametags website, you will find some beautiful pictures that show you how impressive effects and transformations can be achieved with wall stickers. Look at the pictures – you can easily imagine how delighted your child will be with the result. Having a child choose the themed stickers is also a great way to get your child involved and excited about creating their own space and therefore feel comfortable. wall decals are an extra special touch when two children share a room as the decals allow everyone to personalize their patch and create a charming and welcoming personal space for a small fraction of the cost of redecorating.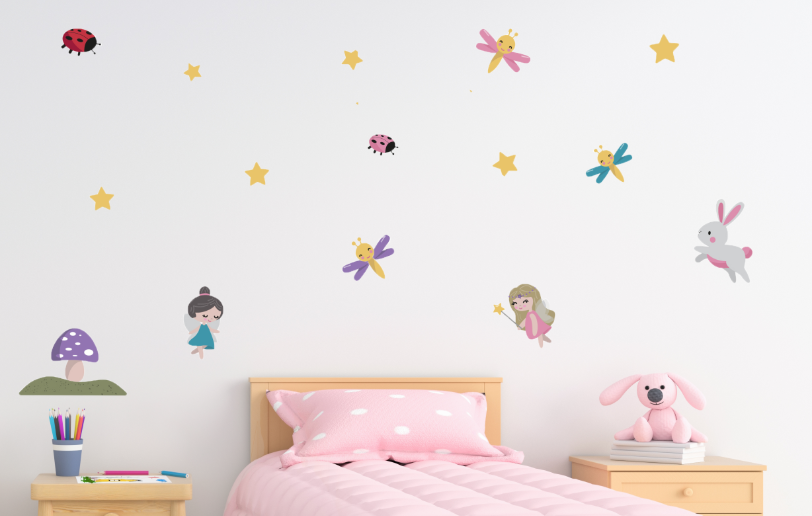 TIP: Let your kids decorate their rooms as a great summer holiday project!
Getting your child involved is important!